Love Me Beauty June Box - Love Me Beauty*
I've been falling in love with Beauty Boxes lately. Since seeing Love Me Beauty online i've wanted to try out their beauty boxes. It's a new concept for beauty boxes. It works by credits, once you sign up to Love Me Beauty they ask you a series of questions to help personalise each box to you. Whether it's your skin type, what you're interested in receiving in the box to what hair type you have.
Once you've answered the questions you'll be lead to 'the boutique' how the boutique works is that each month you will get 6 credits to spend for your Love Me Beauty Box. You then pick whether you want a box for one month, 3 months, 6 months etc. I think it's a great concept and it makes each beauty box you have more personalised to you and you can try things you've wanted to try for ages as there's loads of choice in the boutique.
My first Love Me Beauty box arrived in the post and I couldn't wait to show you all the goodies which were inside. It also comes with a make-up bag and that's just made me love the beauty box even more as I always seem to never have enough make-up bags!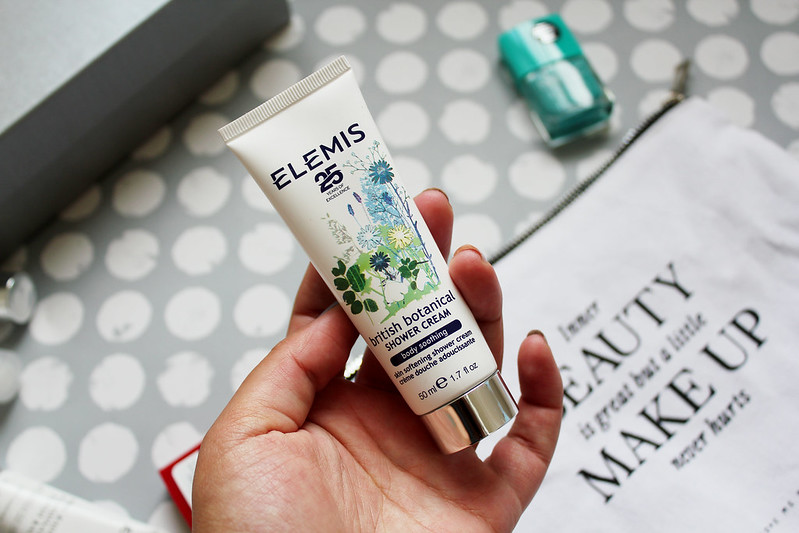 One thing I love about beauty boxes is that they're jammed packed full of sample sizes under 100ml (which makes them perfect for travel sized luggage!) I've heard a lot about Elemis products so I'm super excited to try this out.
The box came with another Elemis product which is this pro-collagen marine cream. I'm not quite the age to use anti ageing treatments but I will definitely give this a go so hopefully my skin will feel more radiant and healthy.
This product I'm really excited about is this pro-radiance illuminating flash balm. I'm struggling with my skin at the moment, it feels quite dull and dry and I am really into trying out new products to make it feel radiant and look glowy!
Here's another skin care product and I think this is great for travelling. I'm going to use this cream in the morning to make my skin feel better first thing in the morning!
I've never seen a product like this before and I'm excited to try this out. I do worry about developing wrinkles when I'm old and I think this is a great product for those of you who are paranoid about issues like frown lines and hopefully it will make you feel younger!
These Nails Inc Gel Effect Nail Polishes I'm so excited to try. I've read so many reviews about them online and I think the two colours which came in the box are such summery colours! I can't wait to wear this aqua shade on my holiday in 2 weeks. I think Nails Inc are slowly becoming my favourite nail polish brand. They really don't chip until about after 4 days and the colours are so well formulated and you don't have to cover your nails in layers and layers to create an opaque look.
If you want to purchase a Love Me Beauty Box I have a unique 20% off discount code for you all. All you have to do is type in 'becca20' at the checkout!
What do you think of beauty boxes? Are you going to get a Love Me Beauty box?
Twitter//Instagram//Facebook